Dossiers
"The Rockefeller Family Fund Takes on ExxonMobil" by David Kaiser and Lee Wasserman (NYRB)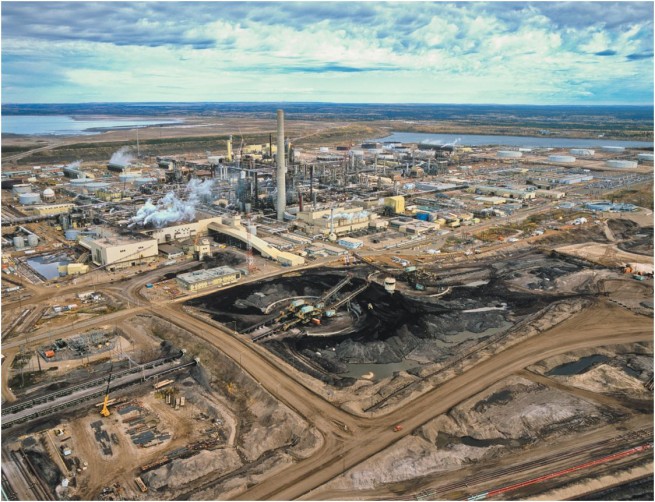 [Garth LenzA plant owned by Syncrude, a joint venture of ExxonMobil's Canadian subsidiary Imperial Oil, which processes oil from the tar sands of northern Alberta, Canada's biggest source of carbon emissions and the US's largest source of imported oil; photograph by Garth Lenz from his traveling exhibition 'The True Cost of Oil']
___
by Naomi Oreskes and Erik M. Conway Bloomsbury, 355 pp., $18.00 (paper)
by Steve Coll Penguin, 685 pp., $19.00 (paper)
by Neela Banerjee, John H. Cushman Jr., David Hasemyer, and Lisa Song
InsideClimate News, 88 pp., $5.99 (paper)
What Exxon Knew About the Earth's Melting Arctic
an article by Sara Jerving, Katie Jennings, Masako Melissa Hirsch, and Susanne Rust
Los Angeles Times, October 9, 2015
How Exxon Went from Leader to Skeptic on Climate Change Research
an article by Katie Jennings, Dino Grandoni, and Susanne Rust
Los Angeles Times, October 23, 2015
Big Oil Braced for Global Warming While It Fought Regulations
an article by Amy Lieberman and Susanne Rust
Los Angeles Times, December 31, 2015
Archival Documents on Exxon's Climate History
available at www.climatefiles.com
Smoke, Mirrors and Hot Air: How ExxonMobil Uses Big Tobacco's Tactics to Manufacture Uncertainty on Climate Science
a report by the Union of Concerned Scientists, January 2007
available at ucsusa.org
_________
In the first part of this article, we described recent reporting that ExxonMobil's leaders knew humans were altering the world's climate by burning fossil fuels even while the company was helping to fund and propel the movement denying the reality of climate change.1 Ever since the Los Angeles Times and InsideClimate News started publishing articles showing this in late 2015, ExxonMobil has repeatedly accused its critics of "cherry-picking" the evidence, taking its statements out of context, and "giving an incorrect impression about our corporation's approach to climate change."2 Meanwhile, New York Attorney General Eric Schneiderman is one of several officials who have been investigating whether the company's failures to disclose the business risks of climate change to its shareholders constituted consumer or securities fraud.
Since ExxonMobil claims that it has been misrepresented, we encourage it to make public all the documents Schneiderman has demanded, so that independent researchers can consider all the facts. In the meantime we suggest that anyone who remains unconvinced by the record we have collected and published of the company's internal statements confirming the reality of climate change consider its actions, especially its expenditures. Regardless of its campaign to confuse policymakers and the public, Exxon has always kept a clear eye on scientific reality when making business decisions.
In 1980, for example, Exxon paid $400 million for the rights to the Natuna natural gas field in the South China Sea. But company scientists soon realized that the field contained unusually high concentrations of carbon dioxide, and concluded in 1984 that extracting its gas would make it "the world's largest point source emitter of CO2 [, which] raises concern for the possible incremental impact of Natuna on the CO2 greenhouse problem." The company left Natuna undeveloped. Exxon's John Woodward, who wrote an internal report on the field in 1981, told InsideClimate News, "They were being farsighted. They weren't sure when CO2 controls would be required and how it would affect the economics of the project."3
This, of course, was a responsible decision. But it indicates the distance between Exxon's decades of public deception about climate change and its internal findings. So do investments that Exxon and its Canadian subsidiary Imperial Oil made in the Arctic. As Ken Croasdale, a senior ice researcher at Imperial, told an engineering conference in 1991, concentrations of greenhouse gases in the atmosphere were increasing "due to the burning of fossil fuels. Nobody disputes this fact." Accordingly,
any major development with a life span of say 30–40 years will need to assess the impacts of potential global warming. This is particularly true of Arctic and offshore projects in Canada, where warming will clearly affect sea ice, icebergs, permafrost and sea levels.
Croasdale based these projections on the same climate models that Exxon's leaders spent the next fifteen years publicly disparaging. But following his warnings that rising seas would threaten buildings on the coast, bigger waves would threaten offshore drilling platforms, and thawing permafrost would threaten pipelines, Exxon began reinforcing its Arctic infrastructure.4
Similarly, as Steve Coll5 wrote in Private Empire: ExxonMobil and American Power(2012), the company's
investments in skeptics of the scientific consensus coincided with what at least a few of ExxonMobil's own managers regarded as a hypocritical drive inside the corporation to explore whether climate change might offer new opportunities for oil exploration and profit.
The company tried to use the work of one of its most celebrated earth scientists, Peter Vail, to predict how alterations to the planet's surface made by the changing climate could help it discover new deposits of oil and gas. "'So don't believe for a minute that ExxonMobil doesn't think climate change is real,' said a former manager…. 'They were using climate change as a source of insight into exploration.'"6
Soon after Rex Tillerson replaced Lee Raymond as CEO at the start of 2006, he created a secret task force to reconsider the company's approach to climate change—"so that it would be more sustainable and less exposed," according to one participant.7 Tillerson may have been afraid that the company's aggressive denial campaign had made it vulnerable to lawsuits.8
Under his leadership, as Coll has shown, the company gradually began to change its public position on climate. In 2006 its British subsidiary promised the UK's Royal Society it would stop funding organizations that were misinforming the public about climate science.9 In 2007 Tillerson stated, "We know the climate is changing, the average temperature of the earth is rising, and greenhouse gas emissions are increasing." (That was more than Raymond had ever admitted, but Tillerson still wouldn't acknowledge that fossil fuel combustion caused global warming)10 In January 2009—twelve days before President Obama's inauguration would situate the company in much less welcoming political territory—Tillerson announced that ExxonMobil had become concerned enough about climate change to support a carbon tax.11
The climate measure then under active discussion in Washington, however, was a cap-and-trade bill. There was almost no political support for a carbon tax at the time, and Tillerson's announcement may have been meant to divert support from the reform that seemed most plausible.12 Indeed, since then, although ExxonMobil continues to claim that it supports a carbon tax, it has given much more money to members of Congress who oppose such a tax than to those who endorse one.13 As of last year it was still funding organizations that deny global warming or fight policies proposed to address it.14 And at its annual shareholder meetings it still fiercely resists almost all meaningful resolutions on climate change.15
The Securities and Exchange Commission requires companies to disclose known business risks to their investors, and Exxon's leaders have been acutely conscious of the changing climate's danger to the oil business for almost forty years. The company didn't start telling its shareholders about that danger until 2007,16 however, and in our opinion has never disclosed its full scope. To take just one very important example, the valuation of any oil company depends largely on its "booked reserves," meaning the quantities of buried oil and gas to which it owns the rights.17 Ultimately, however, ExxonMobil may not be able to sell most of its booked reserves, because the world's governments, in trying to prevent catastrophic climate change, may have to adopt policies that make exploiting them economically unfeasible.
In 2013 the Intergovernmental Panel on Climate Change (IPCC) formally endorsed the idea of a global "carbon budget," estimating that, to keep warming to the two degrees Celsius then considered the largest increase possible without incurring catastrophe, humanity could only burn about 269 billion more tons of fossil fuels.18 (We are currently burning about ten billion tons a year.)19 As of 2009, however, the world had 763 billion tons of proven and economically recoverable fossil fuel reserves.20
If ExxonMobil can sell only a fraction of its booked reserves—if those reserves are "stranded"—then its share price will probably decline substantially. The company has long been familiar with the concept of a carbon budget, but claims to believe it is "highly unlikely" that the world will be able to comply with the IPCC's recommendation for such a budget. In 2014 it stated, "We are confident that none of our hydrocarbon reserves are now or will become 'stranded.'"21 Because it is a matter of the highest urgency that humanity find a way to adopt the IPCC's global carbon budget, however, it seems to us that ExxonMobil has been much too sanguine about its business prospects.22 As a Baltimore Sun editorial about the company's long history of climate deceptions put it, "Surely there ought to be consequences if a for-profit company knowingly tells shareholders patent falsehoods (and then those investors make decisions about their life savings without realizing they've been lied to)."23
It is up to government officials, not public interest advocates, to determine whether ExxonMobil's conduct has violated any state or federal laws within the relevant statutes of limitations. Recognizing this, the Rockefeller Family Fund (RFF) informed state attorneys general of our concern that ExxonMobil seemed to have failed to disclose to investors the business risks of climate change. We were particularly encouraged by Schneiderman's interest in this matter, because New York's Martin Act is arguably the most powerful tool in the nation for investigating possible schemes to defraud.24 If ExxonMobil fully complies with Schneiderman's subpoena, he will be able to make a thorough review of the company's disclosures to shareholders on climate change and the history of its internal knowledge. He will then be able to decide whether or not to hold ExxonMobil legally responsible based on all the facts.
No state AG's office can easily compete with ExxonMobil's legal resources, however, not even New York's. Schneiderman has been intrepid so far, but would benefit greatly from cooperation from the AGs of Massachusetts, California, and other states, as well as from the federal government. ExxonMobil has already launched aggressive legal actions against the Virgin Islands, Massachusetts, and New York in response to their investigations, and this may deter others from joining Schneiderman's efforts.25 Still, we hope that other AGs will recognize how dangerous it is when a corporation can use its wealth to discourage enforcement of possible violations of laws governing securities and consumer protection. If they believe the laws of their states may have been violated, they should initiate investigations of their own.
The RFF has also consulted with other advocates about ways to use what we know about ExxonMobil to educate the public about climate change.26 The company's suggestion that our communications with governmental officials and like-minded public interest advocates constitutes "conspiracy," however, is absurd, ignoring the long record American civic associations have of addressing deep societal problems by use of the First Amendment.
ExxonMobil's success in forestalling any sort of adequate response to climate change for a quarter-century makes it imperative that Congress address this swiftly descending crisis now with all possible force and urgency. If the companies that bear so much responsibility for blocking climate action have broken any laws in the process, we hope they will be held accountable. We also hope, secondarily, to make it difficult for elected officials to accept ExxonMobil's money and do its bidding.
Texas Congressman Lamar Smith has taken more money in campaign contributions from oil and gas companies, including ExxonMobil, than from any other industry during his congressional career.27 It is not hard to see why companies intent on blocking new climate policies are eager to support him. Last year, for example, the National Oceanic and Atmospheric Administration published an article in Science refuting the already discredited canard that climate data show no warming over the past two decades.28 In response Smith issued a subpoena to the agency, demanding all its internal e-mails about climate research. An article in US News and World Report observed that Smith's "brand of oversight may signal a new era for science, one where research itself is subject to political polarization."29 According to Eddie Bernice Johnson, the ranking minority member of the House Science Committee, Smith has repeatedly called former tobacco industry scientists, consultants, and public relations firms to testify at his committee's hearings, and has relied on their guidance in previous investigations.30 Wired last year called him "Congress' Chief Climate Denier."31
Recently, Smith has accused several AGs and environmental organizations, including the Rockefeller Family Fund, of "undermin[ing] the First Amendment of the Constitution." He has told us at the RFF that "Congress has a duty to protect scientists and researchers from the criminalization of scientific inquiry" and "a responsibility to investigate whether [the state inquiries into ExxonMobil] are having a chilling effect on the free flow of scientific inquiry and debate regarding climate change."32 As the dean of the Yale Law School wrote in The Washington Post, "It is hard to exaggerate the brazen audacity of this argument."33 Johnson wrote to Smith that "in a Congress in which the Committee on Science, Space, and Technology's oversight powers have been repeatedly abused, this latest action stands apart…. Never in the history of this formerly esteemed Committee has oversight been carried out with such open disregard for truth, fairness, and the rule of law."34 The San Antonio Express-News, Smith's hometown paper, which had previously endorsed his bids for reelection, declined to do so this year because of his "abuse of his position as chairman" and his "bullying on the issue of climate change."35
Congressional committees have very limited jurisdiction over state law enforcement officers engaged in the good-faith execution of their duties, and never before has Congress subpoenaed a state attorney general.36 The AGs investigating ExxonMobil are trying to determine whether the company has defrauded shareholders according to the laws of their states.37 Fraud, of course, is not protected by the First Amendment, and since the AGs are responsible for prosecuting fraud, they must be free to investigate it.
As for the nonprofit organizations the Science Committee has subpoenaed, including our own, it is obviously not within our power to violate anyone's First Amendment rights. The Supreme Court has called it "a commonplace that the constitutional guarantee of free speech is a guarantee only against abridgment by government, federal or state."38 That aside, we have no wish to silence anyone, or to interfere with free scientific inquiry. For the best ideas to prevail, however, people must be allowed to point out instances of inaccurate or dishonest speech. And indeed, by calling attention to the deep, largely orchestrated dishonesty that has characterized the climate denial movement ever since its inception, we are supporting genuine scientific inquiry.
We have tried to reach a reasonable accommodation with the Science Committee. But we do wish to criticize ExxonMobil on moral grounds for its long effort to confuse and deceive the public about climate change. Moreover, we believe that the willingness of some members of Congress to echo and defend ExxonMobil's obfuscation of established climate science is an inexcusable breach of the public trust. It is our First Amendment right to express these views.
In fact, the Science Committee is doing to the people and organizations it subpoenaed exactly what it accuses us of doing. It is trying to chill the First Amendment rights of those who would petition government, speak freely, and freely associate to advocate for responsible climate policies.39 The legal fees we have incurred because of its demands are bearable for the RFF, but they would be crippling for many smaller organizations. We also face civil or criminal liability if we are held in contempt of Congress because we will not accede to these demands.
More seriously, the committee's actions now force all organizations that would collaborate with others when taking on powerful special interests to consider that they might be ordered to reveal their strategies to any hostile member of Congress with subpoena power. This is a clear injury to the First Amendment right of association. As the Ninth Circuit wrote in Perry v. Schwarzenegger (2010):
Implicit in the right to associate with others to advance one's shared political beliefs is the right to exchange ideas and formulate strategy and messages, and to do so in private. Compelling disclosure of internal campaign communications can chill the exercise of these rights.40
Many commentators have noted that the committee is doing the same things to us that it falsely accuses us of doing.41 By accusing us of harming the First Amendment rights of others when it is attacking ours, it is trying to turn what would otherwise be self-evidently outrageous conduct into a dispute. This is not so different from ExxonMobil's politicized variant of the "Tobacco Strategy"—people will be tempted simply to take the side with which they sympathize ideologically. Meanwhile, the committee is creating a distraction from the real issues, which are what Exxon knew, and when; what it did with its knowledge; and what options humanity has left to prevent the worst consequences of climate change.
Thousands of scientists from around the world contribute to the Intergovernmental Panel on Climate Change's reports, reviewing and synthesizing the published literature on climate science every few years. The summaries for policymakers that encapsulate those reports must then be considered and approved, line by line, by representatives of over 120 different countries.42 Because of the remarkable number of scientists participating in the IPCC's work, it is generally considered the world's greatest institutional authority on climate science.43 But because it requires the approval of so many nations, including oil producers like Saudi Arabia and Kuwait, and because it is subject to political manipulation, as happened when ExxonMobil convinced the Bush administration to have its chairman replaced in 2001,44 the IPCC's conclusions are generally considered quite conservative.45
Still, the predictions of the IPCC's latest report, published last year, are dire.46 In this century, disastrous weather events such as storms, droughts, floods, fires, and heat waves will become more common and more severe. Changes to regional weather will have especially serious consequences in places that are already poor, as areas that are semiarid now, for example, become too dry to farm at all. Low-lying islands and coastal cities around the world will be threatened by rising sea levels. In many parts of the world, both the quantity and the quality of fresh water will decline.
For a time, some places will see agricultural productivity increase as the planet warms and rainfall distribution shifts; but others will face shortages of food and the possibility of famine. Globally, total agricultural output is expected to be lower at the end of the century than it is now. The challenge of feeding the world's people will be exacerbated by declining fisheries as the oceans warm and turn more acidic. Many plant and animal species will become extinct as climatic changes outpace their ability to adapt, others will migrate to new regions, and all of this will have cascading effects on most ecosystems. (For example, the combination of much larger wildfires than we are used to seeing and invasive beetle species may endanger the world's boreal forests—and if they disappear, they will release vast additional quantities of carbon dioxide into the atmosphere.) Old diseases will spread and new ones emerge.
These different effects of climate change will interact with each other in complex ways, some of which may not be predictable now. It seems clear, however, that the poorest parts of the world will become poorer still, and economies everywhere will be threatened. (A 1980 American Petroleum Institute meeting in which Exxon participated concluded that at a "3% per annum growth rate of CO2, a 2.5° C rise [in average global temperature] brings world economic growth to a halt in about 2025.")47 Conflict over dwindling resources will increase around the world; so, dramatically, will human migration and political instability.
As a group of retired American generals and admirals who studied the national security implications of climate change concluded in 2007:
Economic and environmental conditions in already fragile areas will further erode as food production declines, diseases increase, clean water becomes increasingly scarce, and large populations move in search of resources. Weakened and failing governments, with an already thin margin for survival, foster the conditions for internal conflicts, extremism, and movement toward increased authoritarianism and radical ideologies.
It is true that scientists still disagree about precisely how severe the effects of climate change will be, and when. But, the generals and admirals wrote, "As military leaders, we know we cannot wait for certainty. Failing to act because a warning isn't precise enough is unacceptable."48
The world's governments should have acted decades ago. When the Exxon scientist James Black wrote in 1978 that "the need for hard decisions regarding changes in energy strategies might become critical" in "five to ten years," he was right.49 That was humanity's best chance to start making the transition to a clean energy economy before so much CO2 was released into the atmosphere that a great deal of warming became unavoidable. In our opinion, the reason the world has failed to act for so long is in no small part because the climate denial campaign that Exxon helped devise and lead was so successful.
Just as the tobacco industry gained decades of huge profits by obfuscating the dangers of smoking, the oil industry secured decades of profits—in Exxon's case, some of the largest profits of any corporation in history—by helping to create a fake controversy over climate science that deceived and victimized many policymakers, as well as much of the public. The bogus science it paid for through front groups, which was then repeated and validated by industry-funded, right-wing think tanks and a too-easily cowed press, worked just as well for ExxonMobil as it had for R.J. Reynolds. A 2004 study by Naomi Oreskes in Science examined 928 peer-reviewed papers on climate science and found that not a single one disputed global warming's existence or its human cause.50But according to a recent Yale University study, only 11 percent of Americans understand that there is a scientific consensus on these points.51
The climate deniers succeeded in politicizing a formerly nonpartisan issue and a threat to all humanity.52 In consequence, for decades now, meaningful congressional action to address climate change has been impossible. Without the agreement and leadership of the United States, the world's largest cumulative emitter of CO2, it has been impossible to achieve a meaningful global accord on climate change. The recently completed Paris agreement on climate, for which the Obama administration fought, will be effective—but only if the world's nations live up to the commitments they made in it. Although, as a result in part of the actions of ExxonMobil, we have already missed our best chance to prevent a reordering of the world's ecological balance due to climate change, we can still avoid its worst effects. There is an enormous difference between the new, local disasters that the changing climate is already causing around the world53 and the global catastrophe that will become unavoidable within a few decades unless humanity takes decisive action soon.
—This is the second part of a two-part article.
SOURCE:
http://www.nybooks.com/articles/2016/12/22/rockefeller-family-fund-takes-on-exxon-mobil/
____
1

See "The Rockefeller Family Fund vs. Exxon,"

The New York Review

, December 8, 2016.

2

See Understanding the #ExxonKnew "controversy"; Paul Barrett and Matthew Philips, "Can ExxonMobil Be Found Liable for Misleading the Public on Climate Change?,"

Bloomberg Businessweek

, September 7, 2016. The company has argued, among other things, that it is unfair to expect that it could have understood the reality of climate change before the rest of the world's scientific community. So it would be, if anyone expected that. But by the late 1970s there was a scientific consensus that the earth would begin to warm appreciably within the next few decades because of the carbon dioxide released by fossil fuel combustion and by deforestation. Exxon understood and agreed with this scientific consensus as it emerged. It doesn't seem to have begun seriously trying to create doubt about climate science until the late 1980s.

3

See Neela Banerjee and Lisa Song, "Exxon's Business Ambition Collided with Climate Change Under a Distant Sea,"

InsideClimate News

, October 8, 2015; www.offshore-technology.com/projects/Natuna/.

4

See Sara Jerving, Katie Jennings, Masako Melissa Hirsch, and Susanne Rust, "What Exxon Knew About the Earth's Melting Arctic,"

Los Angeles Times

, October 9, 2015. Other big oil companies like Mobil (before it merged with Exxon) and Shell, which also opposed policies meant to reduce the impact of climate change, were similarly "raising the decks of offshore platforms, protecting pipelines from increasing coastal erosion, and designing helipads, pipelines and roads [for] a warming and buckling Arctic." See Amy Lieberman and Susanne Rust, "Big Oil Braced for Global Warming While It Fought Regulations,"

Los Angeles Times

, December 31, 2015. We have focused on Exxon in these articles partly because more is known about its record on climate, and partly because it was more aggressive than its competitors in promoting the denial campaign. See Steve Coll,

Private Empire: ExxonMobil and American Power

(Penguin, 2012), pp. 185, 541, 623–624.

5

Coll is now the dean of Columbia University's Graduate School of Journalism. As we explained in the first of these articles, it was a team of independent reporters from the Journalism School that published the articles about Exxon in the

Los Angeles Times

, and our organization, the Rockefeller Family Fund, was the leading funder of this effort.

6

Coll,

Private Empire

, pp. 185–186.

7

Coll,

Private Empire

, p. 336.

8

Coll writes, "What distinguished the corporation's activity during the late 1990s and the first Bush term was the way it crossed into disinformation. Even within ExxonMobil's K Street office, a haven of lifelong employees devoted to the corporation's viewpoints and principles, an uneasy recognition gathered among some of the corporation's lobbyists that some of the climate policy hackers in the ExxonMobil network were out of control and might do shareholders real damage, in ways comparable to the fate of tobacco companies." (

Private Empire

, p. 184.)

9

See 2006 Letter From the Royal Society to Esso UK Limited. In 2007, ExxonMobil also told a group of American environmentalists that it had decided to stop funding the "most controversial" climate denial organizations. (See Coll,

Private Empire

, pp. 343–346.)

10

See Coll,

Private Empire

, p. 347.

11

See Coll,

Private Empire

, pp. 534–535.

12

See Coll,

Private Empire

, pp. 534–541. Cap-and-trade is a market-based mechanism designed to reduce pollution, in this case greenhouse gases. The Waxman-Markey Bill passed by the US House of Representatives in 2009 set a "cap" that established the total amount of allowable greenhouse gas emissions from certain industries. The cap declined over time until emissions would have been reduced by 80 percent in 2050 from 2005 levels. Under the bill, permits to emit carbon—which, when added together, comprised the cap—were either auctioned or allocated to the states, to historic polluters (e.g., utilities, refineries, cement plants), or for other public purposes. The bill required emitters to obtain and submit a permit for each ton of pollution they produced. No industry was allocated so many permits that it would not need to purchase additional ones. This was intended to create a clear financial incentive to reduce emissions. As the cap declined and the number of allocated permits shrank, the incentive would become even stronger.

By contrast, under a carbon tax regime there is no cap. Instead, typically, the first importer or producer of fossil-based fuel is assessed a tax based on the carbon content of the fuel. Because coal contains the most carbon, it would be charged at the highest rate, followed by oil and then natural gas. The tax would be passed along to consumers, creating a market signal to reduce consumption of the carbon-based fuels.

13

See Elliott Negin, "ExxonMobil's Latest Campaign to Stymie Federal Climate Action,"

The Huffington Post

, August 8, 2016.

14

See Elliott Negin, "ExxonMobil Is Still Funding Climate Science Denier Groups,"

The Huffington Post

, July 13, 2016.

15

See Steven Mufson, "Climate Resolutions Fall Short at ExxonMobil's Annual Meeting,"

The Washington Post

, May 25, 2016.

16

See Lieberman and Rust, "Big Oil Braced for Global Warming."

17

See Coll,

Private Empire

, pp. 51, 57.

18

See IPCC Report Contains 'Grave' Carbon Budget Message.

19

See World Sets Record For Fossil Fuel Consumption; Avaneesh Pandey, "Climate Change: 10 Billion Tons of Carbon Are Now Being Released Every Year, The Fastest in 66 Million Years,"

International Business Times

, March 22, 2016.

20

See Malte Meinshausen, Nicolai Meinshausen, William Hare, Sarah C. B. Raper, Katja Frieler, Reto Knutti, David J. Frame, and Myles R. Allen, "Greenhouse-Gas Emission Targets for Limiting Global Warming to 2°C,"

Nature

, April 30, 2009.

21

See Energy and Carbon — Managing the Risks, pp. 1, 12.

22

We do not know whether or not ExxonMobil was also being disingenuous in its claims about the likelihood of compliance with the

IPCC

's global carbon budget. It is the sort of question that we hope Schneiderman's investigation will be able to answer.

23

See "Frosh's Temperature Rise,"

The Baltimore Sun

, June 1, 2016.

24

The Martin Act is New York State's version of a "blue sky" law, a statute designed to protect the public against the fraudulent sale of securities or other fraudulent schemes. It gives the New York attorney general extremely broad discretion: he may investigate "all deceitful practices contrary to the plain rules of common honesty" and "acts tending to mislead or deceive the public."

The statute does not require that the state prove intent to defraud. Under the Martin Act the attorney general can pursue civil proceedings, which include injunctive relief or restitution, or criminal actions. Prior to commencement of an action the state may subpoena any documents deemed "relevant or material to the inquiry." (See Nina Hart, "Moving at a Glacial Pace: What Can State Attorneys General Do About

SEC

Inattention to Nondisclosure of Financially Material Risks Arising from Climate Change," Center for Climate Change Law, Columbia Law School, pp. 30–31; Moving at a Glacial Pace: What Can State Attorneys General Do about SEC Inattention to Nondisclosure of Financially Material Risks arising from Climate Change?)

25

See Exxon Fights MASS Investigation; Memorandum of law in Support of Defendant Attorney General Maura Healey's Motion to Dismiss; Plaintiff's Original Petition for Declaratory Relief; Letter to Gregory Hodges, Esq.; Paul Barrett,"Exxon Chooses War in New York's Probe of Climate Change Research,"

Bloomberg Businessweek

, October 18, 2016.

26

In January the

RFF

hosted a meeting of public interest advocates at our office. One of the participants (not affiliated with the

RFF

) circulated an e-mail suggesting "examples" of possible "common goals" for the group, including "to establish in [the] public's mind that Exxon is a corrupt institution that has pushed humanity (and all creation) toward climate chaos and grave harm," and "to delegitimize them as a political actor." Reporters somehow acquired and wrote about this e-mail (see Amy Harder, Devlin Barrett, and Bradley Olson, "Exxon Fires Back at Climate-Change Probe,"

The Wall Street Journal

, April 13, 2016; Alana Goodman, "Memo Shows Secret Coordination Effort Against ExxonMobil by Climate Activists, Rockefeller Fund,"

The Washington Free Beacon

, April 14, 2016), and Congressman Lamar Smith has since cited it in his criticism of us. (See Letter, June 17, 2016 to Ms. Faith E. Gay.)

From our perspective, the e-mail contained some rhetorical bravado (though it was never intended for publication, of course), and while we consider Exxon's actions immoral, we have no particular interest in persuading the public that the company is corrupt. Otherwise, however, we don't think the e-mail said or suggested anything that is far from the truth.

27

See Top Industries: Representative John Boehner.

28

Thomas R. Karl, Anthony Arguez, Boyin Huang, Jay H. Lawrimore, James R. McMahon, Matthew J. Menne, Thomas C. Peterson, Russell S. Vose, and Huai-Min Zhang, "Possible Artifacts of Data Biases in the Recent Global Surface Warming Hiatus,"

Science

, June 26, 2015.

29

See Alan Neuhauser, "Lamar Smith is Hot and Bothered About Climate Science,"

U.S. News and World Report

, November 23, 2015. During the three years of Smith's chairmanship, the Science, Space, and Technology Committee has issued more subpoenas than in the rest of its fifty-four-year history put together.

30

See Letter, June 23, 2016.

31

See Eric Niiler, "Congress' Chief Climate Denier Lamar Smith and

NOAA

Are at War,"

Wired

, November 11, 2015.

32

See Letter to Faith E. Gay, June 17, 2016.

33

See Robert Post, "ExxonMobil Is Abusing the First Amendment,"

The Washington Post

, June 24, 2016. Post was referring to the First Amendment argument made by ExxonMobil's allies generically, not specifically to Smith.

34

See Letter, June 23, 2016.

35

See "Lamar Smith's Bully Tactics Cross the Line,"

San Antonio Express-News

, October 17, 2016.

36

See www.mass.gov/ago/docs/energy-utilities/exxon/ltr-to-congressman-lamar-smith-7-26-16.pdf. Senator Sheldon Whitehouse of Rhode Island recently wrote that "the constitutional principle of federalism requires 'proper respect' to states' constitutional functions, and what more proper and inherent state function is there than investigation and prosecution of violations of state law? If the committee is obstructing that state function on behalf of a private party, that raises obvious due process evils of government power unleashed under hidden private control." (Sheldon Whitehouse, "Standoff Over a House Panel's Subpoenas Raises Key Issue,"

The National Law Journal

, August 29, 2016.)

37

See John Schwartz, "Exxon Mobil Fraud Inquiry Said to Focus More on Future Than Past,"

The

New York Times

, August 19, 2016.

38

Hudgens

v.

National Labor Relations Board

, 424 US 507, 513 (1976).

39

We were disturbed to see that in an exchange with our lawyers, Smith cited

Barenblatt

v.

United States

(1959)—a decision that seemed to ratify the infamous witch-hunts of the House Un-American Activities Committee—as precedent and justification for his committee's demand that we turn over our private correspondence. See Letter to Faith E. Gay, June 17, 2016

40

Perry

v.

Schwarzenegger

, 591 F.3d 1147, 1162–63 (9th Cir. 2010).

41

See, e.g., "House

GOP

Members Pursue an Objectionable Defense of Fossil Fuels,"

Los Angeles Times

, August 4, 2016; Sheldon Whitehouse and Elizabeth Warren, "Big Oil's Master Class in Rigging the System,"

The Washington Post

, August 9, 2016; Letter to Chairman Smith, September 12, 2016.

42

The

IPCC

is a body of the United Nations. Any country that is a member of one of two other UN bodies, the World Meteorological Organization and the United Nations Environmental Program, is eligible to participate in the

IPCC

.

43

See Naomi Oreskes and Erik Conway,

Merchants of Doubt: How a Handful of Scientists Obscured the Truth on Issues from Tobacco Smoke to Global Warming

(Bloomsbury, 2010), p. 2.

44

See

ExxonMobil Lobbyist Randy Randol 2001 Memorandum to White House on IPCC team

; David Hasemyer and John H. Cushman Jr., "Exxon Sowed Doubt About Climate Science for Decades by Stressing Uncertainty,"

InsideClimate News

, October 22, 2015; Greenpeace,

"Denial and Deception: A Chronicle of ExxonMobil's Efforts to Corrupt the Debate on Global Warming,"

May 12, 2002, p. 14.

45

Oreskes and Conway,

Merchants of Doubt

, pp. 204, 206–207.

46

Intergovernmental Panel on Climate Change,

Climate Change 2014: Synthesis Report

, edited by the Core Writing Team, Rajendra K. Pachauri, and Leo Meyer (

IPCC

, 2015). See especially pp. 56–73.

Climate Change 2014: Synthesis Report

.

47

See

CO2 and Climate Task Force.

48

National Security and the Threat of Climate Change

(The

CNA

Corporation, 2007), pp. 6, 7. The admirals and generals involved in the study were General Gordon R. Sullivan,

USA

(Ret.), Admiral Frank "Skip" Bowman,

USN

(Ret.), Lieutenant General Lawrence P. Farrell Jr.,

USAF

(Ret.), Vice Admiral Paul G. Gafney II,

USN

(Ret.), General Paul J. Kern,

USA

(Ret.), Admiral T. Joseph Lopez,

USN

(Ret.), Admiral Donald L. "Don" Pilling,

USN

(Ret.), Admiral Joseph W. Prueher,

USN

(Ret.), Vice Admiral Richard H. Truly,

USN

(Ret.), General Charles F. "Chuck" Wald,

USAF

(Ret.), and General Anthony C. "Tony" Zinni,

USMC

(Ret.). The

RFF

supported this convening of generals and admirals, but needless to say they exercised independent judgment in reaching their conclusions.

49

See

1978 Exxon Memo on Greenhouse Effect for Exxon Corporation Management Committee

.

50

See Naomi Oreskes,

"Beyond the Ivory Tower: The Scientific Consensus on Climate Change,"

Science

, December 3, 2004.

51

See

Climate Change in the American Mind

.

52

Yale sociologist Justin Farrell told the

Los Angeles Times

that ideological "polarization around climate change…was manufactured by those whose financial and political interests were most threatened." See Lieberman and Rust,

"Big Oil Braced for Global Warming."

See also Justin Farrell, "

Corporate Funding and Ideological Polarization About Climate Change,"

Proceedings of the National Academy of Sciences of the United States of America

, January 5, 2016.

53

IPCC

,

Climate Change 2014: Synthesis Report

, pp. 49–51.